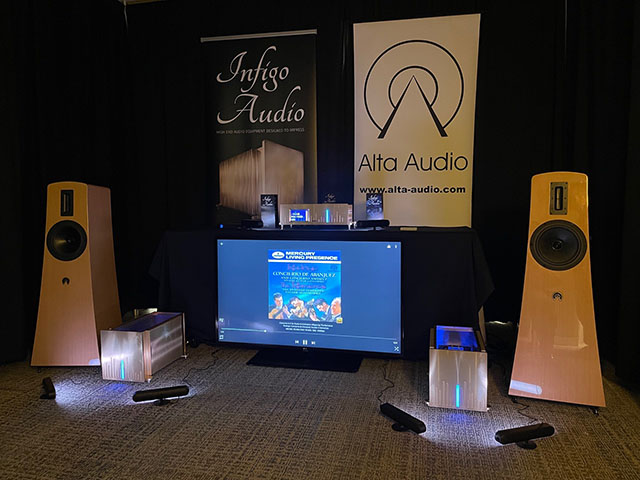 Capital Audio Fest 2021
Washington DC, November 5 - 7
Picture by Lee Shelly Photography
Source: Fluvius Streamer playing files from SSD drives.
DAC: Method 4
Amps: Method 3
Cables: All throughout Sparkle Series Audio Cables USB, Signature XLR, bi-wire Speaker Cable, Power Cables.
Speakers: Alta Audio Alec
Stereophile: "The DAC's beautiful, thick-walled aluminum case and see-through top plate were stunning in the room's atmospheric lighting."
"I quickly fell under the spell of Looman, Oldfield, and these attractive Infigo devices."
Parttime Audiophile: "Occasionally I say dumb things a few times a day. When we entered the room no music was playing, I took a seat and began the bass notes of whatever track was selected. "Good googly moogly!" was belted from my mouth. Not something I normally say, but I'm sure something I've absorbed over the years from reading about the Apollo Space missions."
"Quite impressive, and I hope to see more of what Infigo Audio can do."
Enjoy The Music: "The room just sounded right, from top to bottom; and I went back over and over again to release the fatigue of covering a big show like this. I am working on arranging a review of the electronics, and hope I can solidify that to share these special new electronics with you."